---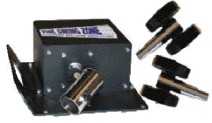 With THE SWING ZONE Pitching Machine Accessory, each pitch will be in a different location. Use THE SWING ZONE with any tripod based pitching machine to vary the pitches both horizontally and vertically for realistic game play action!
THE SWING ZONE is endorsed by Mary Nutter, President of National Sports Clinic and the NSA Director Of The Year; Bill Dowell - Maryland & Delaware State Youth Director. Feel free to visit the their websites at www.nationalsportsclinics.com and www.nsamaryland.com.
Key Benefits
THE SWING ZONE reduces machine jump on your existing pitching machine.
THE SWING ZONE can train your batters to hit random pitch locations.
THE SWING ZONE can help you learn to swing at only strikes.
THE SWING ZONE can be used for both softball and baseball.
THE SWING ZONE is easy to assemble.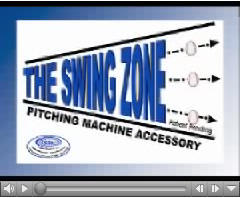 Click on the above image to view The Swing Zone demo movie (5.18MB) Please be patient while the movie is downloaded. Thank you.
For more information on our newest product THE SWING ZONE , visit us at www.theswingzone.com.
---